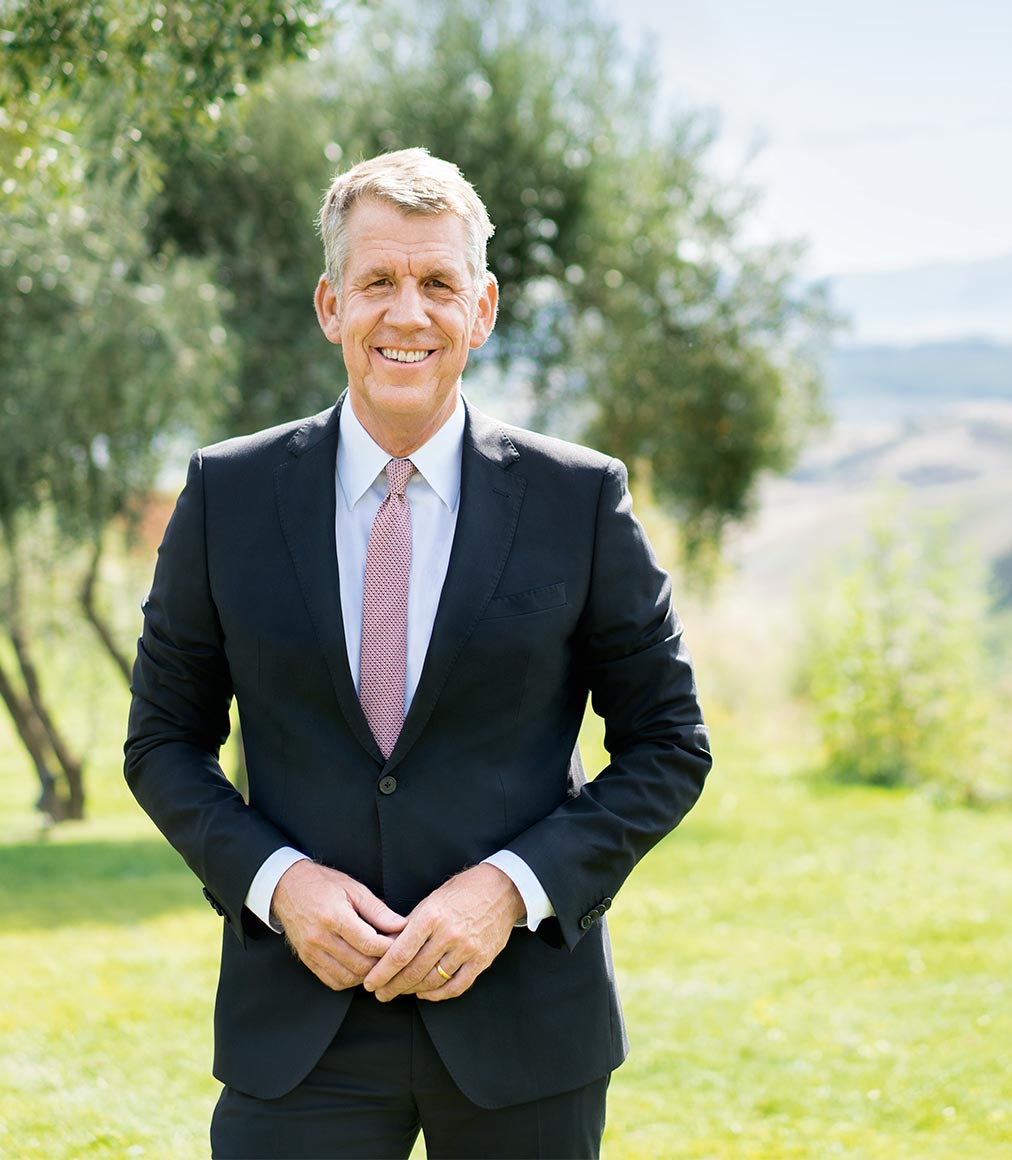 Letter to our shareholders
Dear shareholders,
2018 was another growth year for TUI. We delivered on our promises in a challenging market environment. Our operating result again delivered double-digit growth for the fourth time in a row – it grew by nearly eleven per cent at constant currency in the completed financial year.
The robust results delivered in 2018 are particularly gratifying given that we were operating under exceptional circumstances last year. In the UK, the exchange rate and purchasing power of sterling were adversely affected by Brexit. Air traffic in Europe faced particular challenges. And in our European home markets, we experienced a record summer – with a summer heatwave lasting right into the autumn. This brought its weight to bear on results in our sector in the course of the financial year.
I would like to extend a special word of thanks to our customers who chose to travel with TUI and its brands, and to you, our shareholders, for your loyalty to TUI. Let me also thank all the employees who looked after our guests and again created unforgettable moments during their holidays in 2018. The Executive Board and the Supervisory Board will be proposing another increase in the dividend to 0.72 euros for the completed year to the Annual General Meeting.
We are on track because we have undergone a transformation. This year, in particular, has shown that the realignment we launched in 2014 to focus on the hotel, cruise and destination business has now become TUI's special strength. Only five years ago, a similar summer would have left its mark on TUI, too, as the Group's focus and earnings structure were too one-sided and above all excessively geared to our classical tour operation business. We have now become an integrated hotel and cruise group. We develop, we invest and we operate. And we are increasingly becoming a digital and platform organisation.
Today's success is important. However, what do we need to do to stay on track and keep growing? We used 2018 to define our position. Are we fit for further growth? How are we going to further enhance the quality, efficiency and strength of today's businesses? And where do our strong global TUI brand and the increasing digitalisation of our businesses create new growth areas for the Group? Let me comment on some of the decisions we took:
Our classical tour operation business is characterised by strong competition, seasonality and low margins in European source markets. That is why we must identify synergies and enhance our efficiency. Since the summer, we have clustered the Group's worldwide tour operators and airlines into Markets & Airlines, managed by an Executive Board member. We have to learn more from one another, rapidly transfer successful models from one market to another and harmonise non-customer-facing activities. This transformation has begun and will enhance the efficiency and competitiveness of our classical tour operation business. Where markets have already achieved the required level of maturity, TUI is already fully digital. TUI Nordic in Scandinavia is an example of that. We will not ignore the social and cultural particularities of our markets and customers, but we will be at the forefront of this transformation in other countries, too.
Today, 70 per cent of our operating result is delivered by holiday experiences developed and designed by us: hotels, cruise ships, excursions and activities in the holiday regions. This is where customers experience the strength of the TUI brand. These holiday moments make holidays with TUI so special and personal. We are growing and investing in this segment so as to strengthen it. Despite the large variety of holiday experiences offered by TUI Group, we want them to display a distinctive signature. This includes our Group's own hotel brands such as TUI Blue, RIU, Robinson, TUI Magic Life, hotel concepts such as TUI Sensimar, TUI Sensatori and TUI Family Life, global hotel purchasing with our partners, the cruise lines and destination activities.
This is where we are seeking further growth. We know our customers very well, we know when they travel where, and what services they appreciate, be it holiday destinations, hotel rooms, cruise suites, excursions or activities. If we put this knowledge to smart use, we can create great value added for our customers – and for us, as we will be able to generate additional turnover and earnings. We have paved the way for that growth through our comprehensive digitalisation strategy and our investments in IT as well as new technologies, which are increasingly paying off. Here, too, our transformation as a digital company has progressed and opened up new growth areas.
The destination activities market, in particular, is delivering extremely strong growth, promising highly attractive returns and still typically features many small, local providers. With more than 27 million customers – thereof around 21 million guests from our European source markets, a highly professional international team on the ground, a strong digital infrastructure and networked customer systems, we are well placed to take a leading international position in this market for tours and excursions and to deliver very profitable growth. Usually, several months pass after a holiday booking before our customers depart for their trip. That period offers us great potential to submit personalised offerings for activities in the destination to our customers – from the 'Select your room' option via special excursions through to reservations for restaurants, sporting programmes and wellness facilities.
Having identified the growth potential in this area, we made investments in the completed year by purchasing two companies. By acquiring destination management from Hotelbeds Group, we doubled the footprint of Destination Experiences from 23 to 49 countries. We now have a team on the ground in almost every major destination in the world and are able to develop new products and services for our customers. This summer, we purchased the Milan-based technology start-up Musement. The Italian company has developed a platform that already pools a great portfolio of holiday experiences and offers its users customised excursions. Integrating this approach into our business with 27 million has enormous potential. We expect this acquisition, the further development of our digital platform and the expansion of our offering to contribute substantially to our future growth.
Dear shareholders, we are transforming our traditional portfolio, strengthening today's successful and profitable business lines and investing in digital platforms for our future growth. I hope that the year 2018 and the progress achieved in the past few years have convinced you that TUI has been and will remain a good investment. TUI is the world's leading integrated tourism group. Supported by a great team of 69,500 employees around the world, the Executive Board is committed to ensuring that things stay that way. Tourism is and remains one of the world's biggest and most stably growing industries. There is no reason and no indication to believe that demand for travel will decline – on the contrary. We have identified potential in many new markets, in particular in the countries of South East Asia, where we are expanding our hotel portfolio and building TUI's position.
I would be delighted to be able to welcome you personally to our Annual General Meeting in Hanover. Birgit Conix, the successor to our long-standing CFO Horst Baier, will take part for the first time. Let me use this opportunity to extend my sincerest thanks to Horst Baier once again. He was our CFO throughout financial year 2018. Horst Baier played a key role in designing and delivering our successful transformation over the past few years. He has always been a reliable advisor and partner to my Executive Board colleagues and myself.
We are working to continue our successful performance in 2019. Thank you very much for your support and loyalty.
Best regards
Friedrich Joussen
CEO TUI AG