TUI Group Strategy
Strategy and business model
The leisure travel market has consistently outperformed world output growth over the last decade. This market is also projected to remain very attractive in the future. However, the traditional tour operator and package holiday market remains highly competitive. Online Travel Agencies have started to combine hotel and flight offerings by providing customers with dynamic packaging. In ­addition, airline operators now provide holiday accommodation as an add-on to de-risk their own flight capacity, supported by ­increasingly sourcing hotels directly. Meanwhile it is increasingly likely that there will be new market entrants, for example in the form of global tech companies.
Against this background, TUI has strategically moved away from the traditional tour operator model and developed into an integrated provider of Holiday Experiences. We have invested in our own product offerings, enabling us to create unique holidays for our customers, which is a key differentiation factor from our competitors. A TUI customer could be inspired by TUI, and book with TUI, and then experience a TUI flight, TUI transfer in destination, TUI hotel / cruise and TUI activity, as part of our end to end integrated product offering. This means our customers receive a holistic and seamless experience, while TUI receives more accurate information about what our customers truly want, helping our aim to further facilitate individualised offerings. From an end to end customer journey perspective, around 70 % of our underlying EBITA comes from our own and committed differentiated products.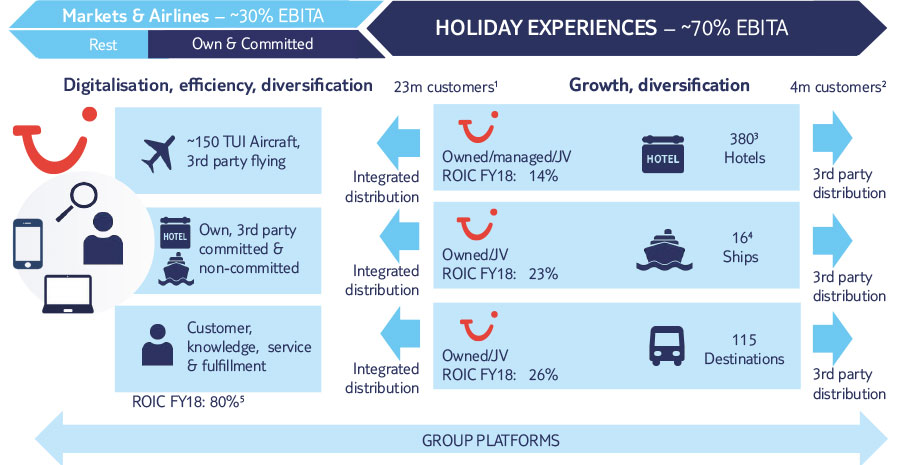 121 m Markets & Airlines customers plus a further 2 m for Cruise and from our JVs in Canada and Russia = 23 m
24 m customers direct and via 3rd party channels to our Hotels & Resort and Cruise brands
3This number includes group hotels and 3rd party concept hotels as at end of FY 2018
4As at end of FY 2018
5This number relates to Markets & Airlines and All other segments
Holiday Experiences
TUI operates 380 hotels and 16 cruise ships globally through ownership, JVs, management contracts, leases or franchise, and maintains a strong position in the growing tours & activities market with our 150 k excursion and activity offerings. Our differentiated hotel and club brand portfolio, our uniquely positioned German and UK cruise brands, and our global tours, activities and services destination business is well diversified to mitigate content cluster risks.
Our strong and in the future fully digitalised risk management tools within distribution and purchasing, allow us to optimise occupancy and yield. 23 m customers come through our Markets & Airlines, including joint ventures in Canada and Russia, complemented by 4 m customers sold either directly by Holiday Experiences, or via third parties. An optimised and in the future fully dynamic allocation of around 100 m bed nights and approx. € 5 bn third party hotel beds purchasing volume globally, will further contribute to our yield maximisation. As part of our divisional strategy, we continue to invest into the growth and diversification of our hotel and cruise portfolio, leading to a more seasonally robust business mix delivering superior margins. Looking ahead, building a new Southeast Asia hotel cluster is a strategic priority. In addition we have a strong pipeline of new ship deliveries in the coming years.
The global and pre-dominantly offline, fast growing tours and activities market, worth over € 150 bn is highly fragmented with over 300 k providers and therefore offers a strong growth and consolidation opportunity for TUI Group. By acquiring the Hotelbeds Destination Management business and the technology platform specialist Musement, TUI has built a leading and fully digitalised Destination Experiences business. From FY 2019 onwards we operate in 49 countries with over 150 k excursions and activities in destinations in our inventory for our own and third party customers. This set up allows us to offer our 27 m customers excursions and activities, in particular even prior to the customers' arrival in the destination. The trust in our brand and our strong fulfillment capabilities allow us to fulfill our customers' expectations from order intake to payment.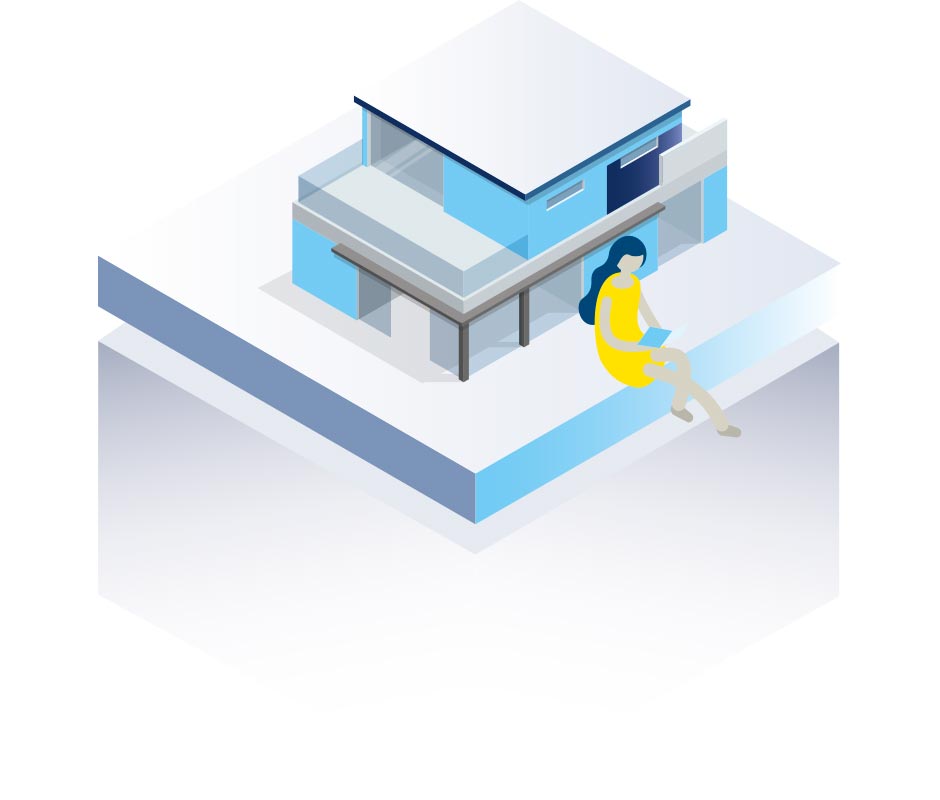 Markets & Airlines
TUI operates a customer centric and diversified distribution and fulfillment business across Europe. We combine leveraging our strong market and customer knowledge, driving customer satisfaction and retention, with service and fulfillment. Packaging and purchasing is increasingly driven through our digital platforms and our own airlines, supported by third party flights, facilitate the link between customer demand and our own, as well as third party committed and non-committed hotel and cruise offerings.
Enhancing efficiency by harmonising these regional market organisations, which include our airlines as well, is a key strategic priority.
In addition, we intend to diversify our existing market footprint further. Through our fully digital LTE platform, we are pursuing a low risk entry strategy, simultaneously improving our position to yield our Holiday Experiences' risk capacity through additional new source market demand.